Teaching English at school
Main Project: Teach English and Other Subjects at our Schools and Temples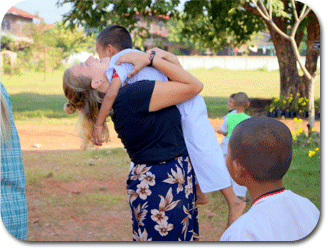 As a voluntary teacher
you do not need any pedagogical background. Maybe you are also studying pedagogy and would like to complete an internship abroad. Or are you dreaming of a sabbatical in Southeast Asia? Then go ahead!
The classes are also different in size: in some schools, only 6 to 12 pupils go to one class, in others it is between 15 and 25, in some even up to 30. Among other things, at the elementary schools your creativity is in demand: use games, music, or small role-playing games - the little ones will be thrilled!
volunteers teach from 9-12:00 or 12-15:00 or the whole day from 9-15:00, 5 days a week +++ volunteers get also support from local teachers at the school (scroll down for report 2015 - 2018)
Report 2023 –
Teaching in the schools,
by Katharina Fetz

I – a trained kindergarten teacher and music teacher – had the opportunity to teach children in schools in the surrounding villages in English and Music for four weeks.
My Impressions
The work of previous volunteers is clearly visible:
The children can identify the letters of the English alphabet.
When they see an English word in written form, they can spell it.
They recognize both uppercase and lowercase letters, though small letters are still a little bit difficult for some kids.
Their vocabulary covers basic terms like colors, animals, fruits, numbers, days of the week, etc.
They can introduce themselves in simple language and ask for someone's name or where they come from.
There is great potential:

Most of the children are highly motivated to learn English.
They appreciate it when you spend time with them and engage with them.
Both the children and the teachers who teach English in schools are eager to learn the correct English pronunciation from us volunteers.
As a music teacher, I was particularly impressed by the children's musical abilities. They have an incredible sense of rhythm and are quick to learn various musical patterns, melodies, and dance moves. Singing is therefore a good way to practice English pronunciation, learn new vocabulary and internalize English phrases.
Challenges:
During the Covid-19 pandemic, there was practically no school. Therefore, there is a lot of catching up to do in all subjects.
Most volunteers stay for only a few weeks, what makes it challenging to plan progressive teaching. It's helpful to focus on one or two topics and explore them thoroughly with the children. This also gives the children the opportunity to revise and practice what they learned before new volunteers arrive and start something new.
The available teaching materials vary greatly from school to school. Every school has a whiteboard and pens. Thanks to donations, the children also have notebooks and pens. In the larger schools, there are English textbooks (which are in most cases too advanced) and sometimes children's books. At the V2T Camp, a variety of teaching materials has come together, including flashcards, simple games, grammar exercises, etc., which can all be taken to the schools for teaching. Working with images has proven to be very effective! Simple hand-drawn symbols suffice for the children to better learn new vocabulary.
Spontaneity is very important! It is often unclear beforehand which class or age group will be taught, as schools' plans can change on short notice. It's best to have a plan for various age groups to be able to respond quickly on-site.
Especially in smaller, more isolated schools, it's not taken for granted that a teacher is always present due to a massive shortage of teachers. For these children, "school" doesn't mean the same as it does for children in countries with good educational systems. They often don't even know why they go to school to learn and be prepared for the future. It's not uncommon for the kids to do each other's hair, lie down to sleep, or simply leave the classroom to play outside during the lesson.
If you accept all these facts and connect with each child based on their individual needs and current stage of development, you can have an unforgettable and joyful time at V2T, which can also help you personally in many ways. After all, what could be more beautiful than being greeted by the children with a big smile and a cheerful "Hello teacher!" as they eagerly wait to learn from you?
Report 2018 -
Teaching in the schools
, by Jurgen Verbist
I was a student in physical education and recreation movement teacher. I did my internship abroad at Volunt2Thai were I teached English and physical education at the schools and tempelschool.
Current status of students' English learning
Some schools have a formal English class and an English teacher.
English level of the students:

Basic English

Students can read induvial letters and some word

Students can recognize the alphabets

Students spelling and reading is really basic

Some students still need more attention because they heave learning disability or other problems
Students at all ages basically have similar English level, but some of them are more outstanding and know some more words and spellings.
Challenges for the volunteers:

There are more volunteers needed with pedagogical background like teachers or internship from people who are studying for teacher.

Teaching with basic learning materials.

The volunteers created an safe environment for the children to try to speak English ( This needs more stimulance).
Sports:
After 14:00 on Tuesday and Thursday the children are free to practice some soccer, volleyball or other sports. There are no teachers with a lot of knowledge about sports and ways to teach the children to a better technique level.
The other problem is the weather. Sports need to be practice later in the day when it isn't that hot anymore.
Needs:
copy books- to practice writing letters and words

single line exercise books

plastic folders- for students to keep all the English worksheets or notes

simple English phonic books, textbooks, and readers for all students, so everyone can follow the lessons better

big posters with simple English vocabularies (e.g. Days of the week, body parts, colors, etc)

Donations for the schools for better infrastructure

Sport equipment (cones, balls, …)
Need to know for future internships:
Keep your mind focus on the basics
Try to communicate and learn some words Thai

you get a lot of knowledge and kindness in return
Report 2015 -
Teaching in the schools
, by Jennifer Siu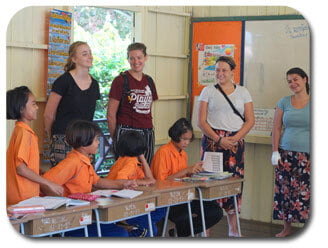 Currently the volunteers have the opportunity to teach the children English. The lessons will be held at local schools and temples. helping you to get a picture of what to expect when you teach English at our schools, here a Report of English Education from two of the six schools we take care.
There are 6 villages around this area with 6 schools. Children at school are aged 4 – 14 years old. All 6 schools showed intention to work with us. However, given the constraints of resources we have at the moment, we can only accommodate two schools which are Ban Nong Phong School and Ban Nong Kung School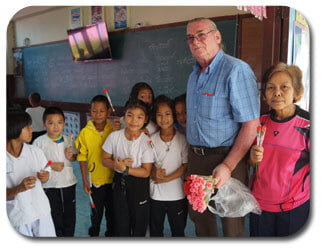 There are around 120 students in Ban Nong Kung School with 7 classes. Students are placed into classes according to their age, start from aged 5 – 6 at kindergarten, aged 7 at "Pratom 1" to aged 12 at "Pratom 6". There is no formal English class provided at school due to different limitations including low English level of local teachers, facilities in school etc. At the moment, Volunt2thai sent volunteers to this school every Monday to Friday, from 9am to 11:45am, (situational) facilitating English class to "Pratom 2" with aged 8 students.
It was a new collaboration with this school started early September 2015. There are only around 40 students aged 4 - 14 years old in Ban Nong Phong School. Volunt2thai sent volunteers there every Thursday and Friday afternoon, from 1pm to 3pm, (situational) facilitating English class. All 40 students attend the class at the same time because everyone would like to get the chance to learn English. In addition, volunteers facilitate a volleyball class with students every Friday afternoon from 2pm to 3pm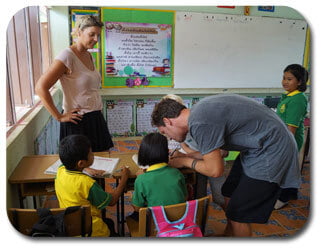 Current status of students' English learning
All schools do not have formal English class or have no English class at all.
English level of students:
Basically zero
Most students cannot identify capital letters and small letters, nor recognize all alphabets
some students can say some words but not spell nor read
cannot understand all verbal instructions, demonstration needed
some students might have learning disability, e.g. dysgraphia or problem with eye sight.
Students at all ages basically have similar English level, but some of them are more outstanding and know some more words and spellings.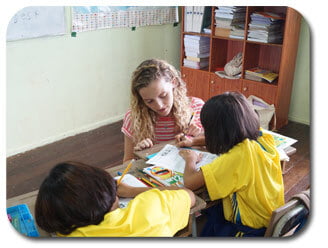 Current status of teaching by volunteers

Volunteers are now teaching alphabets, numbers, days of the week and some vocabulary, like animals, colors, clothes, etc. It is not very systematic, given these collaborations with schools are just started and most volunteers just stay for a short period of time like, weeks or few months. There is no curriculum nor year plan yet, which would be ideal if there is any in the future. All teaching now is very hands-on and depends on the progress of student learning. (Update April 10, 2018: a curriculum is under development)
Students do not have basic learning materials nor enough supplies for study



There is basically no English teacher here. Local teachers speak very limited English or no English. If schools only rely on volunteers for English teaching, there will be a problem of continuation of student learning. (Update April 10, 2018: more local teachers speak English available now)
There is lack of English speaking context. There are not many chances for students to speak, hear or practice English. Students are shy and not confident to speak English. (Update April 10, 2018: more volunteers now available)
Resources; available for students
English phonic book (but not everyone has it because it is expensive)
Single line exercise book and basic stationery (but not all of them can afford. Some of them run out of paper and have nothing to write on; some of them do not have erasers, correction pens or even pencils or pens and need to borrow from classmates)
Available at school
Computer rooms with around 6 very old computers in Ban Nong Kung School
(computers are not used most of the time)
Wifi at classrooms
Whiteboard with markers and erasers
Printers
A4 paper and general stationery
Needs
copy books- to practice writing letters and words
stationery- pencils, erasers, etc
single line exercise books
plastic folders- for students to keep all the English worksheets or notes
simple English phonic books, textbooks, and readers for all students, so everyone can follow the lessons better
big posters with simple English vocabularies (e.g. Days of the week, body parts, colors, etc)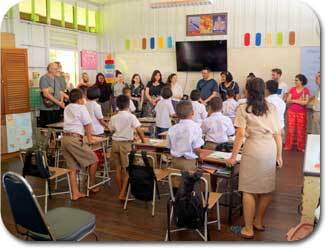 Potential future development
​

There are several suggestions for development in a long term.

​

Collect, design and compile more education materials like worksheets or simple English textbooks for education use.




​

Collect more donations for basic stationery and exercise books to make sure all students will have enough supplies for study.

​

Establish a small English library in school by collecting simple English books and readers.

​

Develop English course outline or a curriculum for whole academic year with different levels. So, volunteers can follow and keep students' learning in progress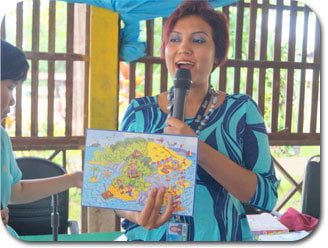 Potential teaching focus:
Oral. Simple conversations which encourage students to speak English. It helps them communicating with volunteers and other foreigners in a certain extent and boosting their confidence.
Read and write. Start from very basic like recognize alphabets, phonics and spelling of vocabularies
Equip local teachers with English, so local teachers can sustain English classes at school in a certain extent in case there is no volunteer, or even take over English classes in a long term.
Get clinical psychologists, school psychologists, child psychiatrists, educational psychologists or developmental psychologists involved to assess students if they have any learning disabilities. Afterwards, train the teachers and parents what can be done and how to improve the situation.
Cooperate with department of optometry in universities or optical professionals to facilitate general eye check-up for students (and probably extent to all villagers) regularly. Refer those identify with eye problems to the clinics, and look for donations for those who need glasses. (Same concept can be used for health check-up programme)